Hey guys, gals, and non-binary pals! It's Mod Zan, here to present to you another game review! In this article, I'm going to be talking about a game that's been out for a while but deserves to be scrutinized by my ever-present feminist magnifying glass: Saints Row 4. As usual, I'm going to discuss Visual and Audio, Gameplay, and Story. Let's get started with Visual and Audio first!
Visual and Audio: The visuals in Saints Row 4 fit in with the feeling of the series. They're goofy, bright, and it's clear that they weren't taken too seriously. For the most part, this is a good thing. It adds to the ridiculousness that separates the game from others in their genre, such as GTA V. However (especially when compared to the third one), it's difficult to ignore the fact that the two games have very little difference between them despite the gap in their time of release. The graphics are too realistic to be fully cartoon-like, and too cartoon-y to be considered realistic. I don't necessarily think that this is a detriment to the game, but it's certainly not to its credit either.
As far as character design goes, despite having a few good female characters present in the game that I'll get into a little later, their design has a bit to be desired. Shaundi, Asha and Kinsey are the main female characters in the cast for this game, and though Asha and Kinsey have decent costumes, it's hard to ignore how similar the design is and how sexualised they all become. Particularly when you unlock their superpowers and gain new costumes. Asha suffers the least from this treatment, and is also the only woman of color who has a main role in this game. Though the game is raunchy and never shies away from sexuality regardless of gender, it would be unfair to pretend that there's no difference in the way this is handled between the male and female members of the cast.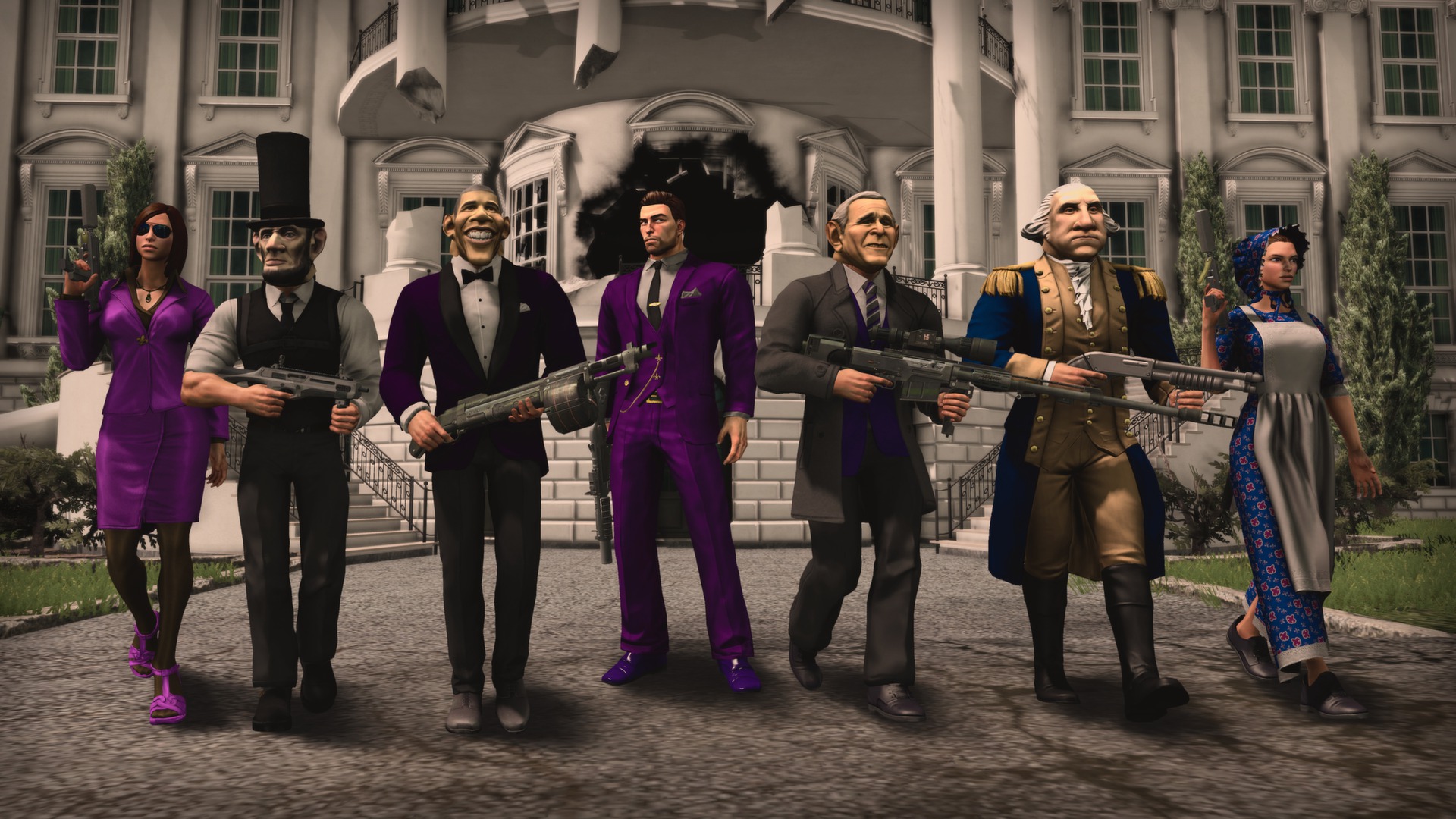 Gameplay: That being said, it's worth recognizing this from the get-go: Saints Row 4 is a fun game to play. It keeps a lot of the things that I loved about the third one preserved, and adds new mechanics that make for a fun time as you unlock new superpowers and kick aliens into space in all kinds of new and interesting ways. The weapons that they added in are even more outlandish and give you all kinds of new experiences through each fight, which helps break up some of the monotony that you end up falling into as the game continues.
Though it is a fun experience for players of all skill levels, after you punch the four billionth alien fighter into the sun, you start to wonder if there isn't more to life than just running through a (spoiler) simulation, smashing aliens and setting cars ablaze. Though the combat is funny and engaging at first, as you move through the game it starts to feel far too similar to Saints Row the Third, and not in a good way.
Story: Saints Row 4, as its predecessors before it, has never been known for its moving story. Though the characters are relatively well-done, and even sympathetic at some points, Saints Row 4 does not boast an interesting story. You fight to destroy an alien species that has already destroyed earth by destroying the simulation they put you in to destroy you. My biggest complaint with the story of this was the revelation that none of the things that you did were going to be real because of your imprisonment in the alien simulation. Though the villain was easy to despise and the main characters easy to root for, I never felt particularly motivated to complete many of the main missions because I felt that without the fictional impact on the real world, it rendered some of the fun of the game moot.
Though the ending of the game was as satisfying as it could be with earth floating in space in a million pieces, it left me wanting to go back and play through the third game again and with very little desire to replay. The real charm in this game was in the minor interactions and character side quests that you had with the other members of the cast, right down to the Mass Effect romance parody that you could go through with every member of your crew (save the vice president), regardless of gender.
Representation in Saints Row is surprisingly sufficient considering the genre; Asha, Pierce, Keith Davis, and Benjamin King are all POC, and with Kinsey and Shaundi added in only leaves Matt Miller as the white man on board the ship with the option for the player to choose the protagonists appearance. There is a lot to be desired in-game when it comes to including better character design for the girls as previously stated. Though the design is lacking in some places, there are a lot of great moments with Shaundi throughout the game as you deal with her guilt surrounding Johnny's death and help her deal with her feelings about her past self. The team wouldn't function without Kinsey, and she never is presented as anything less than fully capable even with the introduction of Matt Miller, who has similar skills.
Additionally, there were some compulsory romances (Asha and Matt) that didn't seem to make much sense, particularly given their difference in personality and complete lack of interest in one another at the start. There is surely more to talk about considering the amount of content in this game, but this is the gist of what I gathered while playing it.
In conclusion: though Saints Row 4 is a good time for people who aren't looking for anything serious, it's difficult for me to recommend it when you could get the third one and have a better story and a slightly better experience. However, as far as representation goes, I believe that this is one of the best in the series and opens up the floor for the inclusion of more diverse casts of characters even in games that are traditionally marketed to a heterosexual male audience!
I think that we have a lot to look forward to as they move forward with the series, and I will be cautiously looking forward to seeing what else they will include.