Mod Aria's back! I decided that this week's Top 5 would be some more Final Fantasy indulgence. I myself am a big fan of the series and have played so many of the titles. I'm serious. Every game from FF7 through FF15. Except for FF11 of course. I've also played the Dissidia games, FF4, FF1 and FF6, FF10-2, every FF13 installment, even some of the mobile games! While I've not played every game, I think it's fair for me to say which Final Fantasy protagonists I think are the best of the best. So I hope you come along on this ride with me!
For clarification: These are characters that would be considered the "main characters"; the ones who you play as and control. Non-playable party members will not be included here. That's a Top 5 for another day!
#5 — Squall Leonheart from Final Fantasy VIII
While the gameplay leaves much to be desired (you can beat the game from starting level really. All you need is Squall's ultimate weapon. I've seen it done), the plot of Final Fantasy VIII is one of the most heart-trending of the franchise. And you will be hard-pressed to find a Final Fantasy with such great party cohesion and affection. I always enjoy it when the party members of a RPG actually love and support each other, so Final Fantasy VIII's party will always be one of my favorites. But let's focus now on how amazing Squall is.
Squall is a great protagonist because of how drastically he changes in the narrative of Final Fantasy VIII. While it does take Rinoa, Squall's love interest and Manic Pixie, to ignite the change in Squall, he does a lot of it through his connection to Laguna as well as helping his friends. He goes from a stoic, emotionless fleshbag to a young man who cares for his most precious people. And I think that part of character development has pretty much disappeared from mainstream games. But, thankfully, a dynamic character has not completely vanished.
All in all, Squall is great because his character was incredibly well written and he played off the rest of his party incredibly well. I really wish I could have seen Square Enix expand on the story of Final Fantasy VIII. Maybe one day!
#4 — Zidane Tribal from Final Fantasy IX
Zidane is one of my favorite main characters from a Final Fantasy, and FF9 is my favorite Final Fantasy of all time. One of the reasons is that Zidane was the first Final Fantasy game I played with a protagonist that smiled and liked having fun. I feel like XI is an underrated game; it came out so close to FF10 that it kind of got overshadowed. But I think those who haven't played the game are missing out on something amazing. As well as a really entertaining protagonist.
Zidane is peppy, but he's brave and clever. He knows how to get someone to like him, and he's a confidant person. He's got all the tropes of a guy you'd want to hate. But you don't hate Zidane. You love him. You love him because of the hardships you watch him endure, as well as for his kindness towards his party members and friends. Zidane is kind even towards Kuja, one of the game's main antagonists. Despite struggling with his own identity, he still manages to help suffering people remember that they are worthy of life.
The only downside to him is that he is a bit of a pervert. But he is a pervert with a heart of gold. I really would like to see Final Fantasy IX receive the love and care it deserves (to see Zidane get some better treatment), but who knows if that will happen. I'll go on loving the game regardless!
#3 — Notics Lucis Caelum from Final Fantasy XV
If you've watched NWG's first Feminism in Gaming, you'll know that I think Noctis is a terrific character and that Final Fantasy XV is the best FF game to come out in years. But I'll elaborate more on Noctis here than I will Final Fantasy XV itself. All I'll say about the game is that, like FF8, the fact that Noctis is so close with the rest of the party and how amazing his relationship is with them. There are some really emotionally intense scenes between Noctis and his best bros, and I loved that so much because of how it defies toxic masculinity and develops Noctis as a character.
Noctis is a great character because he does experience some change in the course of the game, but he's so refreshing in the fact that, despite is stereotypical edgy exterior, Noctis is a happy person, and intelligent person and free with is affections. It's not often you see all three traits in a Final Fantasy protagonist. If they're happy, they're usually a bit slow or perverted. If they're intelligent, they're usually depressed or quiet. And if they're free with their affections, they're usually a flirt or considered "stupid". Noctis destroys these stereotypes by loving his future wife (even if I think it's too forced), supporting his friends and enjoying life.
Hopefully Square Enix will continue with the process of creating good main characters and work to improve their games even more. I think it'll be a long time before we see Final Fantasy 16, but I can only hope the protagonist is as feminist as Noctis is.
#2 — Serah Farron from Final Fantasy XIII-2
Most people enjoy what Lightning brings to the FF13 table, but I have always preferred Serah as a protagonist. In the first FF13 game, I was much more attached to Snow and Serah's story than I was any of the other characters, so I was incredibly glad to see Serah take the reigns in 13-2. It's my opinion that the first Final Fantasy XIII should have been ditched (allowing 13-2 to be the core game and Lightning Returns to be 13-2), but I'll save that opinion for another article.
It's rare to see video games with a female protagonist, and it's even rarer to see video games with a female protagonist that is allowed to own her femininity. I think to often we equate "tough" female protagonists with being "emotionless" and "angry". This is done to rob a female protagonist of stereotypical feminine traits. It's nice to see a break from stereotypes, don't get me wrong. But forcing every female protagonist into that role isn't true acceptance. It's saying that females can only be protagonists if they subscribe to these "tough" qualities. Which is not true.
The only real downside is that Serah is not treated well in any Final Fantasy 13 installment; she is always used as a plotpoint and cannot control her own place in the series. But it is nice to see her be able to have her own story. Serah is a great protagonist because of her kindness towards Noel, her love for Snow and her sister as well as her bright and positive attitude. She is also not overly sexualized, which is even rarer for a good-natured female protagonist. It's even more refreshing than Noctis. This is another trend that I hope is normalized in mainstream gaming.
#1 — Terra Branford from Final Fantasy VI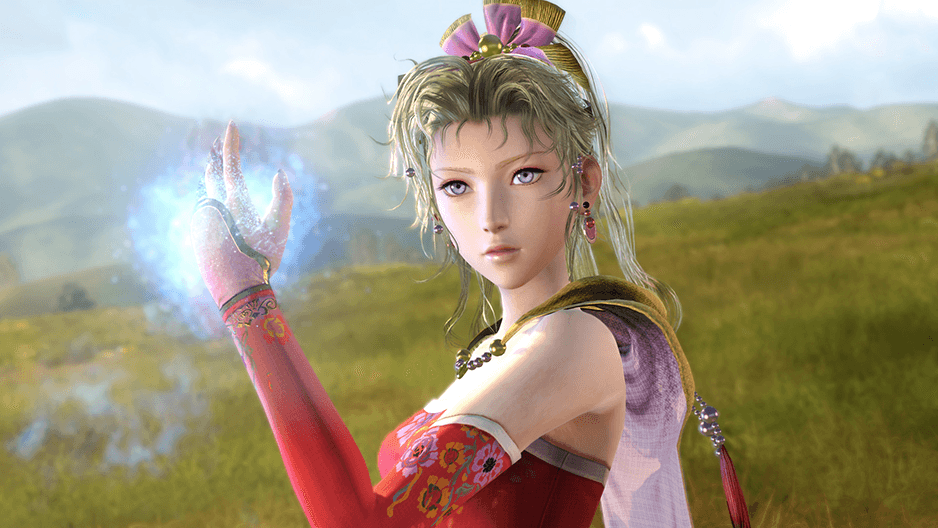 One of the most heated debates in the Final Fantasy fandom amongst veterans and newcomers is which game holds the title for "best Final Fantasy": is it Final Fantasy VI or Final Fantasy VII? Personally, I enjoy Final Fantasy VI, but it's not because I'm a fan of "old school Final Fantasy" or think the first five games are superior to every other. I like Final Fantasy VI because Terra is the best FF main character, hands down.
Terra not only happens to be a terrifically dynamic character, she is also incredibly powerful. She spends the majority of her game fighting for people who are suffering as well as protecting the people she came from. She struggles through the entirety of Final Fantasy 6 to learn what it is to feel. She herself is trapped by the people who sought to use her, and she is fiercely independent when she finally embraces herself. She is kind, but also willing to fight and protect the people she considers close. She is thoughtful and grows so much. Terra is just really…really great.
It is amazing to see a girl suffer so much and still achieve happiness, and it's the kind of story that young girls and women need to see. Terra is the kind of main character that female gamers need. Her story ends happily, unlike Serah's, and it's that reason that Terra will always trump any other female protagonist in the Final Fantasy series to me. She is the most refreshing character despite her game being so old. I want another character like her; maybe Final Fantasy will deliver one day.
That's all for this list. What are your thoughts? Do you think there are other great FF protags that I forgot or did not mention? Let me know; I'd love to talk about it with you!
---
Thanks for supporting NWG. Until we meet again!